18 Dec

#WIAW: I'm Craving Curry Instead of Gingerbread?

Happy WIAW guys!! Can you believe Christmas is in like forty seconds?!? I have so much left to do its crazy. And all midst a serious itch to be in the gym. All that marathon training made me sooo seriously obsessed with gymming & squatting & HIIT. I guess I need a serious mix-up after the thrilling monotony of high mileage running. ;) Seriously. I love running. But I'm over it right now (can you tell I'm still reeling with disappointment that I didn't PR?).

ANYWAY, Christmas treats all around has me craving serious carbs!! And, ya know what, I'm not worried about it. If it takes starchy winter squash, pumpkin pancakes and dried fruit to help me back away from the refined processed treats, then that works for me! Especially since carbs fuel HIIT– Heyooo!!
One of my fave breakfasts this week was scrambled pastured, organic eggs with steamed broccoli & PaleOMG's "Acorn Squash Candy" . I loveee the mixture of sweetness & saltiness paired with black, delicious coffee. Coffee is so much more delicious in the winter. Hot coffee when its snowy and cold is just amaze amaze amaze. Even though snow is evil evil evil.
Moving on… remember when we talked about my carb obsesh?
Well, we can also talk about my PaleOMG obsesh, because she has totally stolen my heart!! Look at this gorgeous, easy-to-make loaf of delicious pumpkin chai bread. Toast and slather with organic butter and yum! And while this looks and tastes like bread, its ingredients are mostly sources of healthy fat!
Snack time this week has been all about the super easy & quick curried veggies. The unique flavor of curry has been hitting the spot (which is kinda weird cause I'm pretty sure the rest of the world is craving cinnamon and gingerbread!). Making a big batch of these and heating 'em up as a snack has added a lot of extra fiber & vitamins to my daily eats :)
Mmmm.. and lastly, I am in loveee with this curried venison (see, I'm on a curry kick!). I bought curry leaves in an Indian marketplace for a dollar, and they have certainly served as my muse the last week!
ANYWAY, back to curried venison. Venison is something your bound to see a lot of in my upcoming WIAWs. My boyfriend's family was super generous and donated A LOT of venison to my grass-fed-eating-self's cause after this years successful huntin' season.
I love stew because it softens the meat & makes it way less "meaty." This was like eating a fruity bounty of veggies (plums & carrots in coconut! YUM!) and some meat thrown in for good measure.
PS. I've totally been treating myself with wayy too many Christmas cookies or holiday cocktails. I can't wait for the holidays to end to go back to my normal life!! :) But, yes, RDs fall prey to holiday temptation too!!!
As always, a BIG thank you to Jenn for hosting!!!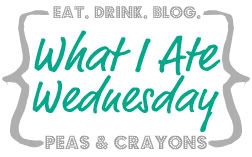 Anyone else craving something else besides the seasonal flavors of winter (ie. gingerbread, cinnamon, nutmeg), or am I the only crazy person?!